Honoring Our Pastors
December 2018
The congregation of Grace Lutheran Church is richly blessed to have both Curtis Boehm and James Kay serving as pastors.
Read More


Our Church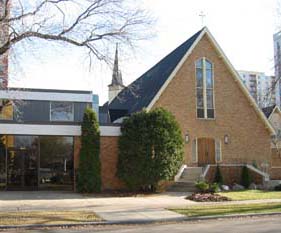 9907 114 St Edmonton, AB
T5K 1P7
Parking is available at Connelly-McKinley Funeral Home on Sunday mornings. Please park on the south end of the large east parking lot unless otherwise posted. Our thanks to Connelly McKinley for the privilege of using their parking lot.

In faithfulness to God's word (Acts 1:8), the mission of Grace Lutheran Church is "To proclaim in a warm caring atmosphere the good news of God's love and forgiveness in Christ to the people of our congregation, our community and the world."


Our Faith
We believe that there is only one true God, Who exists in three persons: Father, Son, and Holy Spirit. God the Father is the creator of everything that exists. The Son is Jesus the Savior. The Holy Spirit inspired the entire Bible. It is the errorless Word of God that brings God's message of love and hope for all people. We accept that Scripture is accurately and faithfully interpreted in the documents contained in the Book of Concord.
Read More
Pastor's Page


Hard Words; Good Words
There are some words which are hard to hear.
For example, when the doctor comes to give us the truth about our condition, and the prognosis is not good, those are hard words to hear.
Or when we've acted irresponsibly, or disobediently, and someone in authority informs us of the consequences of our behaviour, those are hard words to hear.
Or when tragedy strikes unexpectedly, and the news comes to our ears that someone we love has been injured or killed, those are hard words to hear.
Throughout history, God has sent people to speak messages of truth, calling his people to faith and repentance. Sometimes these words also are hard to hear.