Trevor's Ministry Update
Hello friends! August, 2017
After a great summer, school has begun once again at Faith Academy! Here's what I've been up to so far:
Summer in Manila
Rather than go anywhere, I stayed in Manila for most of the summer. I spent my time reading books to prepare for teaching this year and doing things I never had time for during the summer, such as learning how to go to the market, finally going to the dentist, and taking some Korean lessons.
I also was able to spend a week on vacation in Baguio, a city in northern Luzon, the island Manila is on. It was great to experience cooler weather, walk through pine tree forests, and eat fresh strawberries!
New Staff Training
In July, I attended New Staff Training with the other new staff members. I learned some things, even though I'd already been here for a semester, but mostly it was great to get to know the new staff and realize how much more adjusted I am than when I first arrived in January.


New School Year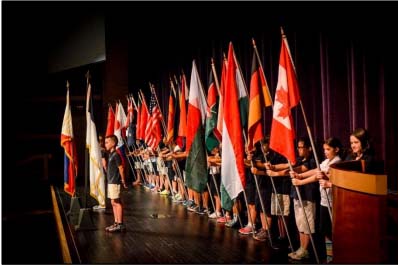 The Flag Raising Ceremony on the first day of school
Classes resumed on August 2nd. This year I'm teaching three sections of Bible 11 and two sections of Bible 6. Because I am teaching more Grade 11 classes than Grade 6 classes, I am now technically part of the High School Division instead of Middle School.
Both classes are going really well. I'm especially enjoying my grade 11 class. The topic of first semester is "Doctrine and Apologetics" and second semester is "Christian Living." It's great to work through theological topics with my students, giving them opportunities to wrestle with difficult concepts.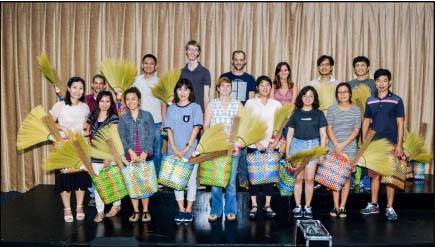 Me and the other new Faith Academy staff
We just finished the Revelation unit and had a discussion on whether God's Word is trustworthy. In one class, my students were saying that they think Bible is filled with errors. Listening to this, I resisted jumping into the discussion and instead watched to see where they were going with this. My self-control was rewarded in that by the end the students had unanimously decided that the Bible was in fact trustworthy and without errors. It's great to see the students wrestling with what they believe, rather than what they think their teachers want to hear.
Meanwhile, in Grade 6, we've been going through the book of Genesis. This group of students is extremely academically driven and take their journaling projects very seriously. We're having a lot of fun together and they always have great insights and questions.

Prayer Requests:
Please pray for my grade 6 students. The transition from elementary school to middle school can be pretty intimidating!
Please pray for my grade 11 students. They are all in different places in their faith. Some are still learning what it means to follow God, others are passionate about proclaiming the Gospel, and still others are deeply skeptical.
This week we are beginning the Bibliology unit in Bible 11. Please pray that the students come to a fuller understanding of the significance of Scripture.
In Bible 6, we're learning the story of Abraham. Please help my students understand this very important section of Scripture.
I'm still adjusting to teaching 5 classes a day. Please pray for me as a I learn to use my time wisely without tiring myself out.
In three weeks, I will be speaking in MSD chapel. Please pray that God guides me as I prepare my message.
Want to Join My Support Team?
While I have been receiving significant one-time donations (thank-you!) I am still behind on my monthly pledges. Right now, I am fully supported until February 2018. However, I would like to raise an additional $500 monthly support so I know I will continue to be supported. Please consider whether you would like to support me monthly.
If you would like to partner with me financially, you can do so on my support website at: https://give.teachbeyond.org/support/trevor-loken. You can also mail a cheque to TeachBeyond at:

TeachBeyond Canada
2121 Henderson Hwy.
Winnipeg, MB
R2G 1P8
or
TeachBeyond US
PO Box 610
Downers Grove, IL
60515-0610
If supporting me by cheque please include a note indicating that it is a gift for Trevor Loken #30198. If you intend on supporting me monthly, please include a note indicating your pledge.
Support forms are also available at https://give.teachbeyond.org.
My Contact Info: Mailing Address: MCPO Box 2016, 0706 Makati City, Philippines Email: tloken@teachbeyond.org Facebook Group: https://www.facebook.com/groups/TrevorPhilippines/
Trevor's Ministry Update
June, 2017
Hello friends!
Greetings! These last several weeks have been really busy as we wrapped up the school year here at Faith Academy!
Ministry Fundraiser
One highlight of the fourth quarter in the Middle School Division at Faith was our Ministry Fundraising week! Our students worked hard to raise money for the ministry of a local pastor here in the Philippines. Most years, we raise between P25,000 ($700) to P60,000 ($1600). This year the students raised an impressive P114,000 ($3052)! In celebration we had a free afternoon in which students got to watch movies, play games, eat ice cream, and dunk water on their teachers' heads. The MSD principal also dressed up in a chicken suit!

Wrapping Up the School Year
Classes in Middle School ended on May 31st with class parties and award ceremonies on June 1st and 2nd. I have mixed feelings about it ending. On the one hand, I am really going to miss these kids. Teaching them was sometimes a lot of work but it was also a joy and I loved seeing them learn and grow in their faith. On the other hand, I am glad to be done my first semester of teaching and to have a couple months to prepare and rest before I start up again.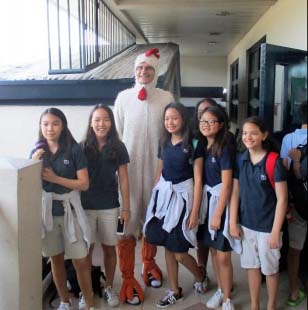 The MSD Principal with some of my Grade 6 students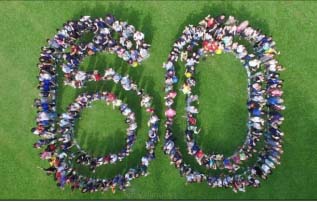 This year Faith Academy celebrated its 60th anniversary!
What Now?
Classes resume in August, so I have two months without classes. While many people go home to their sending countries over the summer, as it is my first year I will be staying here in the Philippines. However, I do have a lot of plans for things that will my keep me busy during this time:
Preparing for Classes – Next year I will be teaching two periods of Grade 6 Bible again as well as three periods of Grade 11 Bible. The first semester of Grade 11 Bible is "Doctrine and Apologetics" and the second semester is "Christian Living." I plan to spend a significant amount of my summer reading and preparing lesson plans for these classes.
Language Learning – One of the other teachers at Faith has offered to teach me Korean over the summer. While the local language here is Tagalog, there are many Korean students at Faith and I realized that, for now, learning Korean will be more helpful for my ministry. I hope to have two language learning sessions each week.
Exploring the Philippines – As I've been so busy with classes this past year, I've had little time to travel. In fact, I've only left Manila once! I hope to have opportunities this summer to get to explore the Philippines a bit more.
Prayer Requests
• Please pray for my students over the summer. While I will not be teaching my grade 6 students next year, I hope to be able to continue to spend time with them and disciple them.
• Many of the staff at Faith are leaving this year to go on furlough. Others
are leaving permanently as God calls them to different ministries, either here in Asia or in their home countries. Please pray for them as they adjust to life outside of Faith.
• Faith Academy is still in need of more staff for next year. Please pray that God provides more teachers and administrative staff over the summer.
• Please pray that God continues to work through and in me this summer, prepares me for next year, and provides opportunities to continue to minister to his people here.
•Please pray for new and returning staff who are coming to Faith Academy next year, especially those who still need financial support.
Want to Join My Support Team?
If you would like to partner with me financially, you can do so on my support website at: https://give.teachbeyond.org/support/trevor-loken. You can also mail a cheque to TeachBeyond at:

TeachBeyond Canada
2121 Henderson Hwy.
Winnipeg, MB
R2G 1P8
or
TeachBeyond US
PO Box 610
Downers Grove, IL
60515-0610
If supporting me by cheque please include a note indicating that it is a gift for Trevor Loken #30198. If you intend on supporting me monthly, please include a note indicating your pledge.
Support forms are also available at https://give.teachbeyond.org.
My Contact Info: Mailing Address: MCPO Box 2016, 0706 Makati City, Philippines Email: tloken@teachbeyond.org Facebook Group: https://www.facebook.com/groups/TrevorPhilippines/
Dear friends, April 03, 2017
Life in the Philippines continues to be an adventure! After March Break, the fourth quarter of the school year began. This gave me the opportunity to change things up a bit. For one thing, I intend to focus more on projects than tests this semester. Right now my students are working on their final project for the Old Testament unit. I gave them options on what to do for their project: a letter from a bible character, a journal entry, a cartoon, a parable, a devotion, or a movie script. Most of them opted for parable or cartoon. I've really enjoyed seeing their creativity as they apply what they've learned. I've also started beginning each class with a devotional based on Hebrews. My hope is that this will allow us to have more personal conversations about God than merely theoretical ones.
This past month I've been distracted by the struggles of living in a new country. A couple weeks ago we had our March Break (technically its Summer not Spring here so we don't really use the term "Spring Break.") Many of the teachers use this as an opportunity to go on vacation; however, as I've been so busy ever since I arrived, I decided my time would be best spent staying at home.
During spring break I discovered a few problems: 1) I have rats living in my house!
At first I could just hear them in my walls but then I started to find evidence that they had been present in my kitchen cupboards. So one night I got up late at night and walked into my kitchen, spotting a massive rat sitting on my counter. I threw a shoe at it, knocking it onto the floor, but it ran away before I could do any more damage; 2) Only a couple days later, I noticed that my bedroom was being frequented by bees. This was less troubling than the rats, but still pretty frustrating; 3) The faucet attached to my washing machine had sprung a leak, causing my water bill to become much more expensive last month!
Fortunately, I was able to keep my sanity for God has blessed me with a very friendly and helpful community here at Faith Academy: 1) Someone from Faith came by and fixed my plumbing issues, nailed up the primary rat entrance, and sealed the suspected bee entrance; 2) Some friends of mine are moving back to the states and needed someone to take their cat for a year so she now lives with me as a rat deterrent; 3) Another friend helped me hire a helper to come clean my house each week. Most people here have helpers and isn't seen as extravagant or strange. Regardless, the concept made me uncomfortable so I resisted looking for one for quite some time. However, it helps provide jobs to people who need them and helps me keep hold of my sanity.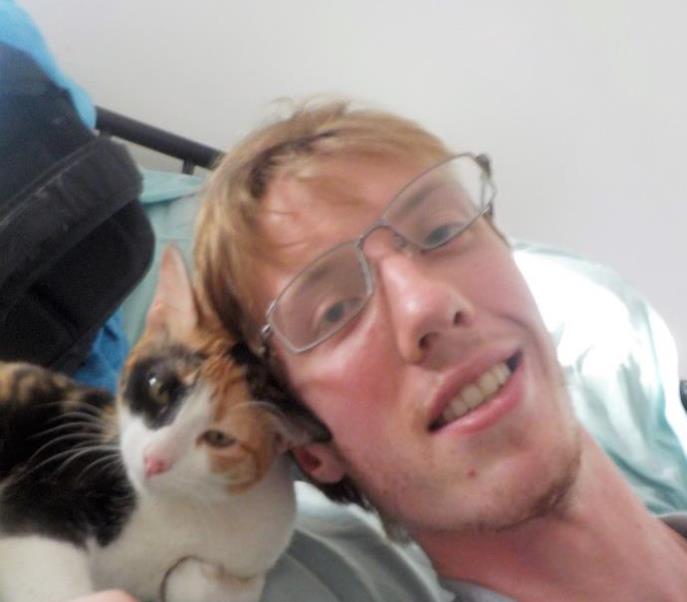 Me and my new roommate, Mimi
This weekend I got to watch the high school production of George Gershwin's "Crazy for You." It was fun to see what a great job the students did, even if I don't teach any of the students involved (but I will next year!) During the intermission I ran into my grade 6 students and they asked me to come sit with them for the rest of the musical. This was as entertaining as expected but also quite flattering that they actually want to spend time with their teacher outside of class.
Answers to prayers:
• This whole quarter I've struggled with engaging one of the boys in my Bible class. He would not pay attention in class, didn't hand in homework, and failed his tests. I talked to his father during parent-teacher conferences and he had no ideas what to do. However, during the first week back I had a breakthrough: We watched a video in class and some of my students asked if they could sit in front on the floor. After the video was over, I let them continue to sit there for the rest of class. This one boy I've been having problems with spent that class engaging with me and asking questions. Following this day, I relocated him to the centre of the front row of desks and he has continued to pay attention and involve himself in discussions.
• After floating between churches for my first couple months here, I've finally settled into one: Union Church of Manila. It's a non-denominational evangelical church that many of the other staff attend here. Recently, I've started attending its 10:30 traditional service. The time is less convenient than the earlier contemporary service but I really enjoy it and am glad to have a service I'm comfortable attending regularly.
• I began driving lessons this weekend! I hope to learn to drive quickly so I can get my licence and a vehicle this summer.
• I have finished up the application process for my 9G Missionary Visa! Now I just have to wait for it to arrive.
• I now know what classes I'm teaching next year: two periods of Grade 6 Bible and three periods of Grade 11 Bible! I'm excited and nervous to start teaching high school next year. Should be pretty different from what I'm used to.
Prayer Requests:
• During Spring Break, I had the opportunity to visit IGSL, a seminary here in Manila where a few of the other TeachBeyond missionaries work. One goal I've had for my time here in the Philippines is to find opportunities to involve myself in post-secondary Christian education. It doesn't look like there are any opportunities at IGSL currently but prayer for God's guidance in this area would be appreciated.
• We are currently wrapping up the Old Testament unit in my Bible class, after which we will move into discussing the inspiration of scripture and then finish up with salvation. Please pray that God speaks through me and helps these children grow in their love for him and his Word.
• I'm rather anxious in looking towards the end of the school year. Summer is still a mysterious entity looming in the distance. I intend to remain in Manilla over the summer but I don't know what I'll be doing with my time; especially, as most of the other missionaries either return to the States or go on vacation over summer. Please pray that God shows me what he wishes me to do with this time.
• Faith Academy is still looking for a lot of new staff members for next year. Please pray that God provides the staff we need.
Thanks again for your prayer and support! I'm encouraged knowing you're there praying for me and am always happy to hear from you! Please let me know anyway I can remember you in my prayers.
God's Blessings,
Trevor Loken
My Mailing Address:
Trevor Loken Faith Academy
MCPO Box 2016
0706 Makati City
Philippines
Facebook Group: https://www.facebook.com/groups/TrevorPhilippines/
Support Website: https://give.teachbeyond.org/support/trevor-loken
TeachBeyond Canada
2121 Henderson Hwy
Winnipeg, MB,
R2G 1P8
TeachBeyond USA
PO Box 6248
Bloomingdale, IL
60108-6248
www.teachbeyond.org
February 25, 2017

Dear friends,
I have now been in the Philippines for over a month! I can't decide whether I feel like I just arrived or like I've been here forever. Either way, it's been pretty great.
Almost all my time so far is spent teaching, lesson planning, and grading. I just finished up teaching Isaiah in my bible class. Each week, I have the students read a selection of chapters from the bible and journal on them, writing about things they like or dislike and questions they have about the passage. Marking those journals is my favourite part of the class as they often have wonderful insights and questions. Here are some of my favourite comments they have had:
• "While I was reading I felt so sad for the Lord because the temple was broken by the Babylonions that was made by Solomon son of David." [2 Kings 25]
• "God is saying that He will rebuild from the ashes. This can relate to a lot of people including me, because whenever you are hurt sometimes you feel torn but God builds and plants a seed from your ashes." [Isaiah 6]
• "I like how God just keeps talking to Isaiah. He even gives him a name for the baby. I like how he said 'with his strong hand on me.' God is just so amazzzzing." [Isaiah 8]
• "It made me think that I also want to listen [to] God's voice, because sometimes I'm confused if it's God's voice or if it's my voice." [Isaiah 9]
• "While I was reading this chapter it made me sad because it reminded me of Jesus dying on the cross for my sin. If Jesus was beside me right now I would give him a big hug and say to Him thank-you Jesus for all the things you have done for us." [Isaiah 53]
• "It was the story when Jesus was crucified because of us, because he loves us. I learned and heard about this story a lot of times, but when I read it I learn it and feel different because God teaches me everything new." [Mark 15]
A couple weeks ago was our Middle School Outdoor Education week. We took all the Middle School kids out to Taal, where we hiked a volcano, went snorkeling and scuba diving, and learned about God and his creation! I led a squad of twelve Grade 6 boys. We called ourselves the "Vesuvius Vipers." It was great to see them grow and bond throughout the week.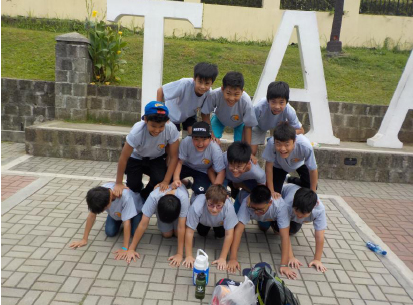 Outdoor Ed squad of twelve wonderful Grade 6 boys!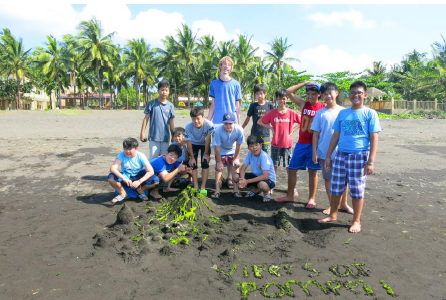 Our entry in the sandcastle competition. We created a massive viper watching as Mount Vesuvius erupted and destroyed the city of Pompeii.


At the end of the third day of Outdoor Ed, we had a chapel service in which the speaker talked about hiding in God instead of hiding from God. She ended the service by giving time to quietly pray or confess to one another. I saw some of my boys go off to a corner of the room together. When I went to check in on them, I found them all crying and praying together about their sin, God's grace, and their family members who are not believers. It was amazing to see God working within my squad.
In two weeks, the quarter is ending and we will have a week without school for March Break. Most of the teachers here go on vacation during March Break, either travelling somewhere in the Philippines or to a nearby country in Asia. However, I have decided to stay here as I want to spend the time preparing my classes. Next quarter I'm teaching Apologetics and Salvation and I haven't put much thought into it yet.
Adjustment to the Philippines has been good. My house is mostly furnished now which makes life a lot easier. I borrowed a table and some chairs and purchased a futon couch, an oven, a washing machine, and a bookcase. It goes a long way to making it feel like home! I also now have functional internet in my home. Now I can Skype!
I do still have a lot of things to learn though! Last month I had one shocking incident when a colony of ants started living in my bed! Fortunately, my neighbours helped take care of me and gave me ant poison and a change of sheets. The other missionaries here are very generous and kind and I've managed to make a few friends. Which is great as I still feel like a child who doesn't know how to do simple things like pay the water bill or use public transportation.
Here are some ways you can pray for me during these next few weeks:
• Please pray for my students. After Outdoor Ed, I had my grade 6 boys fill out a reflection survey, talking about what they learned and how they want to continue growing in their faith. Two of the students wrote that they wanted me to mentor them and twelve of them expressed interest in joining or starting a Bible Study. I'm not sure what either of these things will look like but I'm thankful for their eagerness to learn more about God.
• I'm still trying to find a church to attend regularly. I'm getting sick of not knowing where I'm going to church each week so I'm going to choose one and attend there regularly. Please pray for God's guidance and patience in this.
• Despite learning a lot, there are many things I don't know how to do here and the independence is getting to me. Please pray that God gives me courage to try new things and patience with my inability to do the things I want to.
• I've been here for almost two weeks now. So far I've had few problems with loneliness or culture shock but I expect it will start coming soon. Please pray that God keeps me focused on him as my strength.
• Faith Academy is looking for a lot of new staff members for next year. Please pray that God provides the staff we need. I'm attaching their staff needs to this email. Please consider whether you or someone you know may be being called to come serve God here in the Philippines.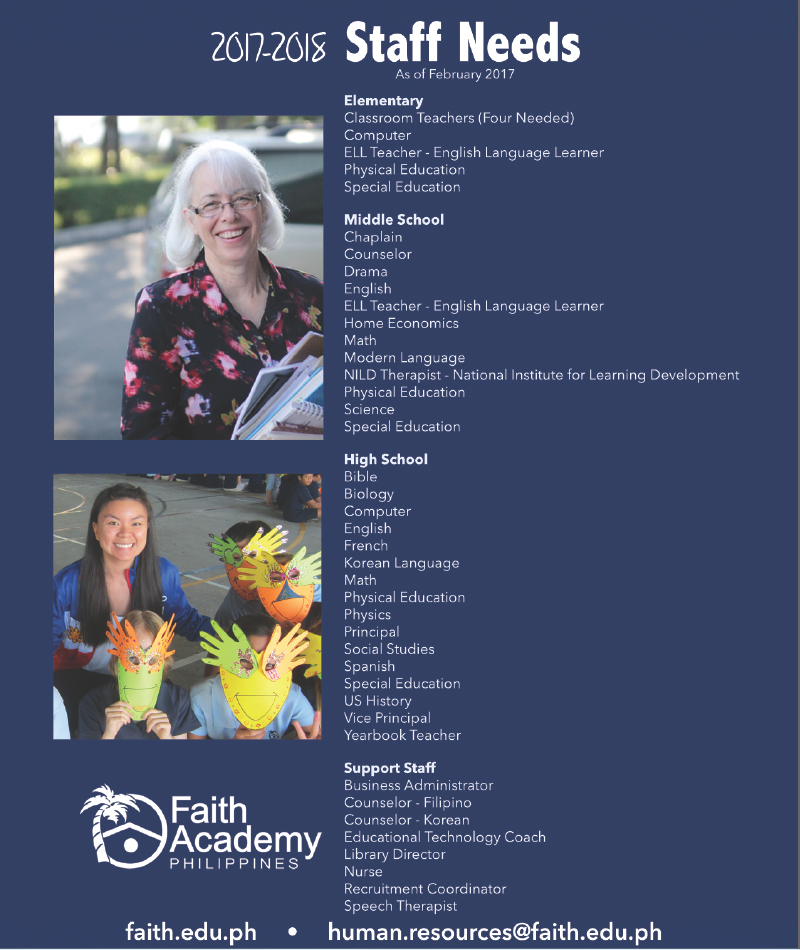 Thank-you so much for your support and your prayer. I couldn't do this without you and am very grateful for the community back home that God has given me. As always, if there is anything I can do to pray for you, please let me know!
God's Blessings,
Trevor Loken
My Mailing Address:
Trevor Loken Faith Academy
MCPO Box 2016
0706 Makati City
Philippines
Facebook Group: https://www.facebook.com/groups/TrevorPhilippines/
Support Website: https://give.teachbeyond.org/support/trevor-loken

January 23, 2017

Dear friends,

I'm sorry it has taken me so long to write this. I've been very busy with teaching and settling in and only have access to WiFi while I'm at school.
I arrived in the Philippines on January 8th! After being picked up at the airport by one of the TeachBeyond members here, I received the keys to my house and bought the minimal amount of furniture required to life: a fridge and a bed.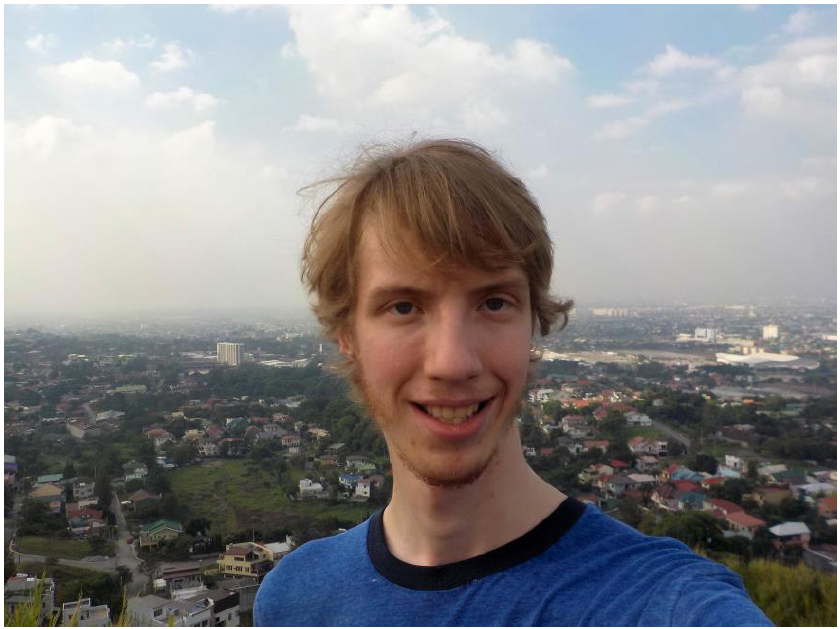 Me at the top of Eagle's Nest, a hill near the school with a great view of the city.

On January 10th, I began teaching classes. For the first week I was only teaching computer classes, but last week I began teaching Bible as well. I find teaching to be difficult as I don't have much in the way of training or experience but its very rewarding and the kids are great.
Computer 6 is Google Aps, so these past couple weeks I've been teaching them how to use Draw.io, making a family tree and designing their dream house. My grade 6 boys discovered you could use Draw.io to also insert pictures of Pokémon, making their dream houses highly entertaining, if not difficult to mark. In Bible 6, we're studying 1 and 2 Kings. It's a difficult section of the bible to teach, but I'm slowly figuring out what I'm doing. This week the students will each be presenting on a different king from the book.

I'm also leading an Outdoor Ed "Squad." On February 6th, which is coincidentally also my birthday, I will be leading a group of grade 6 boys on a week-long hiking and camping trip. This will involve climbing a volcano, snorkeling, and other fun activities. Last Friday was the boys' outdoor ed sleepover day, in which I got to spend the day and night with my team to bond and get to know each other better. Although I barely slept at all that night, it was a lot of fun.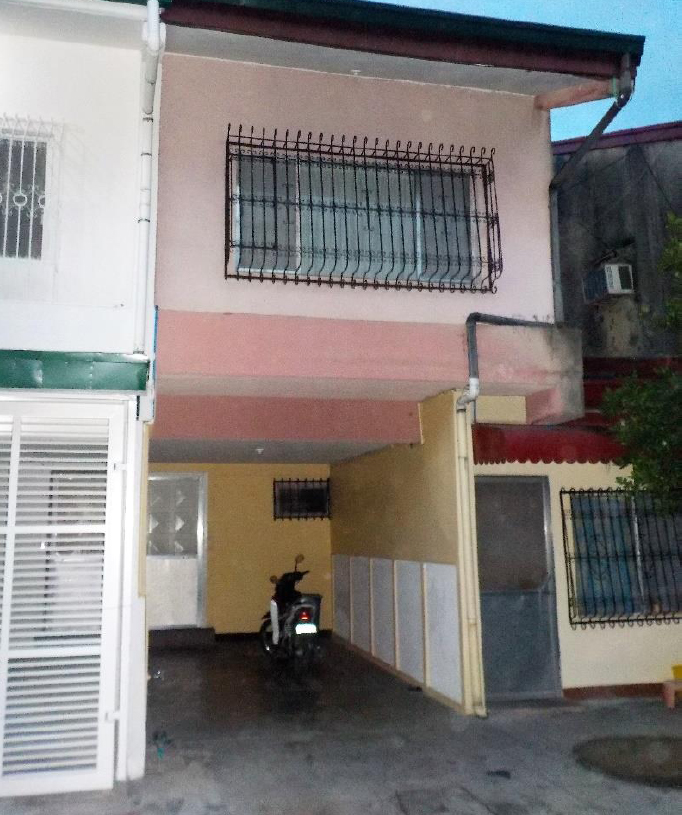 My little townhouse apartment.

Adjustment to a new place is always difficult, especially when you're starting a full-time job at the same time. As such there have been some obstacles so far:
 My glasses broke as soon as I entered the airplane! Fortunately, I was able to purchase a new pair last week.
 My house is almost entirely unfurnished. I have a desk, a fridge, a stovetop, and a bed. My neighbours loaned me a few chairs, the Middle School principle has offered to loan me a table, and I have found a bookcase I can buy from another missionary family. However, I still need to go furniture shopping, which I find to be a stressful and expensive ordeal.
 I do not have a car or a driver's licence. This can make getting around fairly difficult. Fortunately, Faith Academy is within walking distance, even if it is quite the hike. My neighbour Kelly has also has been kindly giving me a ride to school each morning. However, I am realizing that I will eventually want to get a driver's licence and purchase a car. This will be time-consuming and expensive however, so I'm trying my best to do without for now.
 I'm still trying to find a church to attend regularly. I've attended two so far, Union Church, which I have heard also has a more traditional service I might like, and CCF, a massive megachurch. I'm still hoping to find the opportunity to attend some more services before I decide where God would like me to remain.
Please pray for my classes, my students, and my attempts to make Manila feel a bit more like a home. Thanks so much for your prayer and your continued support.
God's Blessings,
Trevor Loken
My Mailing Address:
Trevor Loken Faith Academy
MCPO Box 2016
0706 Makati City
Philippines
Facebook Group: https://www.facebook.com/groups/TrevorPhilippines/
Support Website: https://give.teachbeyond.org/support/trevor-loken






Dear friends, December 27, 2016
I am excited to announce that I have a departure date: January 5th! After a brief layover in Vancouver, I will be arriving in Manila very early on January 7th. It was nice that I was able to spend Christmas in Edmonton with my family before leaving.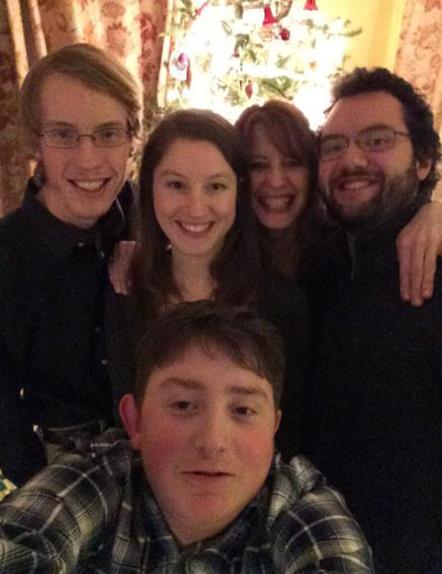 Me, my mum, and three of my siblings this Christmas
I begin classes on the 9th so I will only have a couple days to adjust to life in the Philippines before beginning. I will be teaching three classes this semester: two sections of Bible 6 (Old Testament Overview), and one section of Computers 6 (Google Apps). I will also be leading an Outdoor Education group from February 6-10.
I have received 98% of my monthly support but further donations are always appreciated and helpful. Please continue to pray for me as I prepare for my departure. It's all very exciting but I admit I'm rather nervous as well.
God's Blessings,
Trevor Loken
Facebook Group: https://www.facebook.com/groups/TrevorPhilippines/
Support Website: https://give.teachbeyond.org/support/trevor-loken
TeachBeyond Canada TeachBeyond USA 2121 Henderson Hwy. PO Box 6248 Winnipeg, MB, R2G 1P8 Bloomingdale, IL

Past-post from Trevor:

Letter to Grace Congregation from Trevor Loken
Dear friends and fellow members of Grace Lutheran Church,
I would like to give more detail about my upcoming ministry in the Philippines. Since my first year of post-secondary, I have desired to serve God on the mission field. Toward that goal, I pursued a Bachelor of Arts in Global Studies at Briercrest College. During that time I discovered an equal passion for biblical studies so I returned to Briercrest to pursue a Master of Arts in Theological Studies. Following my graduation this past spring, I have been looking for ways to begin fulfilling this calling and serving as a missionary. Due to my passion for global biblical education, I contacted TeachBeyond, a mission organization that sends missionary teachers.
Through TeachBeyond, I found my current opportunity of serving at Faith Academy, a school for children of missionaries and international workers in Manilla. Faith Academy was started 60 years ago by a group of missionaries who wanted to create a place where their children could grow and learn. Today, Faith Academy has approximately 530 students enrolled and serves missionaries from over 160 mission organizations. I am excited to work alongside them in serving God by providing strong education for missionary families.
I have committed to serving at Faith Academy a minimum of two years. For the first year, I will be teaching two classes: Grade 6 Bible and Grade 6 Computer. I'm especially excited for the Bible class which will consist of an overview of the Old Testament. The regular teachers for these classes are currently on home assignment so I will be filling in for them while they're gone. As a result, I'm not sure what my second year at the school will look like. I might be teaching the same classes or different classes.
I have also been in contact with Steve Pardue, who is in charge of TeachBeyond's Docent Initiative, a new program that focuses on post-secondary theological education in Asia. As I am especially passionate about theological education, I have been in contact with Steve regarding ways for me to work alongside him more closely. During this first year that probably won't look like much, but there may be opportunities alongside my work at Faith Academy during my second year. Pastors in Asia don't have the same resources and opportunities for theological education that we have here in Canada, so helping to provide that education is very important.
So as to be available to as many missionary families as possible, Faith Academy does not pay any of its staff. As a result, I have spent the past few months raising support for my ministry. My living expenses will cost an estimated $1791 a month, alongside an estimated $6000 for start-up costs. So far I am happy to say that I have received 100% of my start-up costs and 68% of my monthly needs. I still require $580 a month.
My original goal was to leave at the beginning of September, however, fundraising takes time and my departure has been delayed until I have obtained pledges for 90% of my monthly funding. To reach that goal I have been presenting at churches, sharing about my ministry and giving an opportunity to partner with me through prayers and financial support. So far I have presented ten different churches in Alberta and Saskatchewan.
I would like to invite you, as my home church, to also partner with me in this ministry. Please consider whether you are able to support me through either a one-time donation or through monthly support for the two-year period. You can support me online through PayPal, credit card, or electronic transfer; or via cheque by mail or through the church. If you are supporting me monthly by cheque please send me or TeachBeyond an email indicating your intention. All donations are receipted for income tax purposes.
Most importantly, please remember me in your prayers. The only way I can go and can be successful is through the will of God. This is his work and so he must be the focal point. Let me know if you would like updates on what I'm doing and how to pray for me. I send out a monthly email newsletter and am looking into sending out newsletters by mail but I'm not sure yet how that will work when I'm in the Philippines. I also have a Facebook group in which I give more frequent informal updates. All this information can be found at the bottom of this letter.
I'd also love to talk in person to tell you more about what I'm doing. Feel free to send me an email if you're interested.
Thank-you for your prayer and support.
God's blessings,
Trevor Loken
Support Website:
https://give.teachbeyond.org/support/trevor-loken/
Facebook Group:
https://www.facebook.com/groups/TrevorPhilippines/
TeachBeyond Canada Contact Information:
2121 Henderson Hwy
Winnipeg, MB
R2G 1P8
www.teachbeyond.org
donate@teachbeyond.org
1-800-381-0076
My Contact Information:
7432 111 Ave
Edmonton, AB
T5B 0B7