We are looking toward the spring and summer seasons in education.
Sunday School ends for the summer on May 12, with a special closing for the day.
Beginning of June we are planning a special congregational baptism celebration with a luncheon to follow.
We will be having some openings in our Sunday School for the positions of superintendent, teachers and students to be enrolled in our fall program. The superintendent position needs to
be filled by June.
The VBS Program is scheduled for the week of July 15.We will be needing a variety of leaders.
VBS registration for "Miraculous Mission: Jesus Saves The World"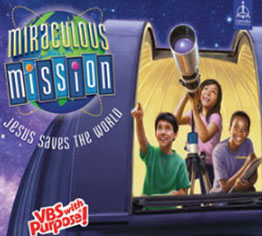 will start in the beginning of May. Children will be learning about God's plan of salvation from creation to the cross. It will be an exciting learning opportunity for the children.
There many ways in which we can serve in God's kingdom – sharing the gospel.
Library and Resource Center
Located in the Gym – Coffee Room 3rd and 4th Sunday each month
In His Service
Christian Education Director
Linda Grohn
SUNDAY SCHOOL - UPDATE
The Grace Lutheran Sunday School is looking for more teachers to assist with lessons beginning in September 2019. If you are able to assist, or would like more information, please contact Corinna Mulyk (mailbox #250 or cmulyk@yahoo.ca).
This semester we will be studying stories in the New Testament, and exploring the life of Jesus under the theme 'Jesus Shows He is True God'. Please encourage the children you know to join us at 10 am each Sunday in the church basement.
We are also looking for a new Superintendent of the Sunday School, beginning in September. If you are looking for an opportunity to lead in service to the Lord, please contact Linda Grohn.
God bless,
Corinna Mulyk – Sunday School Superintendent
BOARD OF CHRISTIAN EDUCATION - UPDATE
Starting in March we are teaching how Jesus shows he is true God. The lessons being taught on the Miracles of Jesus is taken from John chapter 2, to chapter 9.
In Sunday School we are encouraging the children to look at their baptism and celebrate the day they were baptized.
The Sunday School will soon choose a mission project for offering to go towards.
We welcome all children from the congregation and visiting to attend Sunday School. In Sunday School the children study the Bible Stories, pray, look into the catechism, sing, and do crafts.
The winter season is upon us – a time for studying God's word.
Bible studies are in progress.
Central area home Bible study is on Thursday 10am at Marg Klingbeil's home.
West end home Bible Study is at Maureen Tiedemann's home on Monday 1:30pm on the Book of Proverbs.
Thursday morning Bible study is at Grace Lutheran in the Social Room at 10am and it is on the last chapter of John.
Tuesday evening Bible Study on Narnia and Lenten study is at Grace Lutheran at 7pm led by Pastor Drewin.
Spring Quest course is being held on Tuesdays at the Seminary starting on March 19 until April 9th from 7-9pm entitled Heroes and Heretics in the Early Church. To register call Kathy Budgell 780 474-1468 ext. 225
VBS 2019 Miraculous Mission: Jesus Saves the World. is scheduled for July 15th. Children will be learning about God's plan of salvation from creation to the cross. It will be an exciting learning opportunity for the children.

There are many opportunities at Grace to grow in your faith. Check out areas for programs that are available and running such as the Grace Vine, poster boards, Sunday bulletin insert or check in at the church office.
Library Resource Center in Coffee Room is on the 3rd and 4th Sunday after Church Services. Many resources will be available for families to grow in their faith.
In his Service
Christian Education Director, Linda Grohn
Church Office : 780 488 7969
Christian Education – Linda Grohn Mailbox 149
¨