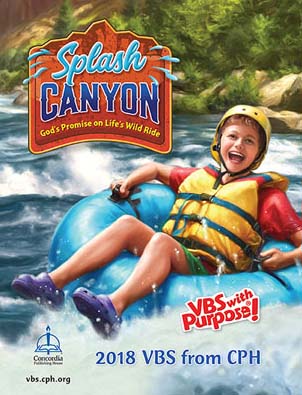 VBS - Splash Canyon - God's Promise on Life's Wild Ride.
July 16th to 20th
9:00 am - Noon
Ages 4 to 12

How to register: Call Karen at the Church Office 780 488 7967
OR contact Linda Grohn 780 349 5802
OR contact Laura Tanasychuk 780 434 2066

Registration Forms are available in the church gym.
Our goal is to have all registrations in by June 10th.

VBS Volunteer Orientation Meeting will be on June 5th @ 6:00 pm in the Social Room


Sunday School

On Saturday, May 11, the Sunday School took a field trip to the Commonwealth Rec Center for a pool party to celebrate our baptisms! Everyone got very clean and had great fun splashing in the pools. Afterwards we enjoyed an ice-cream in the sunshine and thanked Jesus for making us a part of His family through this special water called baptism.

Sunday School is scheduled to be closed for the summer, starting May 20th.
The last Sunday for Sunday School is May 13th.
Children's Chapel talks will continue on Sunday Mornings.
We are looking for a Sunday School Superintendent to lead the Sunday School in the Fall. Also needed are teachers for Team Teaching. We are looking to have these positions filled by June 3. For more info contact Christian Ed Linda Grohn.
Vacation Bible School - A special time where we are sharing the Gospel of Jesus Christ with God's Children – a great mission, the Week of July 16. Needed are approx. 20 helpers for Music, Bible Storytelling, Story Challenger, Crafts, Recreation, Kitchen, VBS Coordinator Assistant and teachers helpers. Registration and Volunteer forms are available at the guest table or in the coffee room on Sunday Mornings. Contact VBS Coordinator Linda Grohn at 780 349 5802 or Mailbox #149 or Call the Church Office at 780 488 7967.
Bible Studies in Private homes are going forward.
Central Area Contact - Marg Klingbeil.
Northeast Area Contact-Bernice Zapf.
West End Contact Maureen Tiedemann.
Baptism Celebration: Join us for a family pool party to celebrate the amazing gift of our baptisms! This event will be held on May 12. 2018 from 1pm to 4pm at the Commonwealth Rec Center.
The cost is $25.50 per family. The Sunday School will provide snacks.
Please Note: This is not a drop off event. Adults must stay with their children! All ages welcome.
In His Service
Christian Education Director
Linda Grohn
Christian Education Report on VBS
Date for VBS - the Week of July 16th
Volunteers are needed ASAP ( Staff of approx. 15 to 20 people ) Openings, Music, Lessons, Bible Story Teller, Story Explainer, Recreation, Crafts, Kitchen, VBS Coordinator's Assistant to assist with Registrations plus assisting the Coordinator with Planning our VBS.
Contact Linda Grohn.
Registration Forms for Students and Volunteer forms are on the table in the entrance.
In His Service,
Christian Education Director,
Linda Grohn
Board of Christian Education

Studying God's Word, the Bible, Family Devotions in the home is a great beginning.
Family Devotions for Nursery to Preteen are available from your resource center.
Daily Devotions booklets have a variety of different topics for teenagers.
Something new this year on the internet, sponsored by Lutheran Hour Ministries, is a digital ministry program called "Thred". "Thred" presents a Christian point of view in an environment where people of all beliefs—or no beliefs—are invited and welcomed into discussions about thought-provoking topics. Check it out at THRED.ORG
In-home Bible Studies are going ahead.
Leaders are being trained by the Pastor.
There are many topical studies, Bible book studies etc.
Each group decides what they want to study.
Also looking ahead to have Sunday Morning Bible Studies led by the Pastors/Vicar.
There are many ways we can engage and study God's word, making us a strong Christian Family here at Grace.
It all begins when we are baptized and through Sunday School, VBS, Confirmation, and Bible Studies.
There are many ways to grow in our faith.
We are all blessings of his Heavenly Kingdom.
In His Service,
Christian Education Director
Linda Grohn
2017/18 Sunday School Mission Project is "The Rock Outreach Breakfast Program".
This Community Meal program is held every Tuesday, Wednesday and Thursday morning from 7 a.m. until 9 a.m. at 11004 - 96 Street.
Volunteers gather as early as 5:30 a.m. to prepare porridge, pancakes and coffee for those people unable to provide for themselves.
Our Sunday School children will collect offerings this year to purchase pancake mix, oatmeal, peanut butter, syrup, coffee, etc. to contribute to these breakfasts.
Please pray that this mission project will be meaningful for our children.
- Maureen Tiedemann, S.S. Mission Coordinator
Grace Lutheran Church Board of Christian Education VBS was held at Grace Lutheran July 10 to July 14.
The theme was: "In Jesus the Victory Is Won." Thanks be to God , who gives us the Victory through our Lord Jesus Christ. (1st Corinthians vs 15 -57) The children studied Kings, battles, and God's Victory for His purpose.
The lessons included the retelling of five Bible accounts:
God's might tumbled Jerico's wall (Joshua 6: 6-20).
God's rescue of King Hezekia's Kingdom (2Kings: 18-19).
King Josiah's reading of God's Word (2Kings 22: 1-23).
Our Saviors Triumph entry to Jeruselum (Luke19: 28-40).
Jesus Victory through His Death and Resurrection ( Luke 23: 1-24, 24:12)

During the week, the children learned that in Jesus, the Victory is won! They looked into God's Holy Word, the Bible, to discover that Jesus is their Champion, Saviour and King. He fought and won the battle for them. He lived a perfect life, died to pay for their sins and rose triumphantly to give them Victory into eternity. Every lesson clearly distinguished between God's Law and Gospel. The children learned of God's will for their lives and how the law has been fulfilled for them in person by Jesus. At the center of every lesson is the Gospel of God's gracious gift of Jesus the Saviour from Sin, Death and the Devil.

During the week, we opened VBS with a prayer, song and scripture reading of God's word and a theme Video. The children enjoyed snacks, games and crafts, developing new relationships with other children. Each family received a Music CD with many songs to enjoy. We are planning on using some of the traditional hymns in our Sunday School.

We had 37 children registered. Eight of the children had not attended before.
Mission of the Week: Special Offerings go towards the Lutheran Hour Ministries in celebration of Reformation.
Offerings Totaled $179.00.
Friday we had a special Closing Program with song, prayers and a light lunch. A special fun feature on Friday was a Bouncy Castle. It was a great uplifting week.
Thank you to the Volunteers that helped in any way to make this years VBS successful.
During the week we had the 21 following volunteers helping with VBS. · Carole Baron · Tabitha Biel · Maureen Tiedemann · Lynn Giese · Brianna Sturzel · Christian Gibson · Linda Grohn · Shirley Hearty · Martha Feculak · Karen Krysa · Gerry Saunderson · Kim Goertzen · Nanny Chawish · Chigoa Jany · Nyakong Koryam · Nyagletni Jyet · Josh Kurtenbach · Andrea Boehm · Pastor Curtis Boehm · Ottilie Woytkiw · Corrine Yasinsky
In His Service,
VBS Coordinator Linda Grohn
Assistant VBS Coordinator Lynn Giese
Sunday School Mission Project - B.C .Mission Boat
Our Sunday School has chosen the B.C. Mission Boat Society to sponsor with our Sunday School offerings. We are hoping to host Jessica Pixner at the end of February 2017 who can share first-hand how the money is used and how trips are arranged into the B.C. coastal villages. Teams lead Vacation Bible Schools; interact with the local people doing crafts, cooking and sports; and develop relationships through service to Christ. Look for a display coming soon to the Sunday School bulletin board.
I am receiving monthly prayer request letters from Jessica which will be posted on the Sunday School bulletin board. Our Sunday School offerings will be sent to this mission effort. The morning Sunday School WILL NOT be receiving envelopes for the 2017 year.
- submitted by Maureen Tiedemann


Director of Education
Our Director of Education is Linda Grohn. She started working with Sunday Schools over 35 years ago when her daughter, Connie was a little girl.
Linda and her husband, Arnold, live outside of Westlock and travel into the city to attend Grace each week. Linda has assisted Lynn Giese with the coordination of our Vacation Bible School for the past several years. She is known for her attention to detail and excellent organizational skills. God bless Linda for her service to the Lord!
Sunday School Superintendent and Assistant
Lynn Giese has an assistant, Maureen Tiedemann, to share the workload of the superintendent. They have been working together to divide tasks, create task outlines and organize teaching material. They also meet with the afternoon Sunday School leaders to exchange ideas, explain the various methods of communication through the church bulletin, Grace Vine and emails and to discuss opportunities to integrate and support each other.