New Directions for Children's Ministry!
To allow time for some more strategic planning of our children's ministry at Grace, our Council voted to have a sabbatical from regular Sunday School until the fall of 2020. This will allow our new council to establish leadership roles in this important area, as well as benefiting from the input of Pastor Chambers after he is installed at Grace next year.
In the meantime, there will be a variety of activities for children within and around our regular worship services. This schedule may change as we gather input and expertise from more people, but for now, we have the following monthly plan:
1st Sunday (Communion at 11 am): Regular Children's Message
2nd Sunday (Communion at 9 am): Craft Sunday! Devotion and crafts in the gym at 10 am.
3rd Sunday (Communion at 11 am): Stump the Pastor! Bring an item in a box to see if Pastor Curtis can use it to create a Children's Message on the spot.
4th Sunday (Communion at 9 am): Regular Children's Message
5th Sunday (September 29 & December 29, 2019 and March 29 and May 31, 2020): These will be Grace Family Sundays! On these special Sundays, there will be ONE SERVICE ONLY at 11 a.m. for all Grace members. Our worship will focus on the ways all of our generations and cultures bring God praise and honour, in response to His loving grace and mercy.
We are excited to see where God leads us in this new season!
Laura Tanasychuk



Confirmation Update
For the large group of confirmands beginning their studies this fall, learning will take place in an exciting new manner. Based on a program successfully being used in four LCMS congregations in lower mainland BC, Grace's confirmation instruction will be presented in retreat format. Twelve retreats are scheduled over the next two years. The first year will focus on Biblical instruction, while the second will explore the Catechism. During each retreat, our confirmands will engage in focused instructional sessions, worship, prayer and devotions. The retreat setting will also give these precious young people the opportunity to forge close bonds not only with each other but with the cross-generational group of adults who will be supporting our pastors as supervisors, devotional leaders, games coordinators, cooks, and mentors. Between retreats, each confirmand will have specific and on-going homework tasks that will support his or her learning and growth in faith.
The first retreat is scheduled for September 26-27. Please keep our young people and their adult supporters in your prayers—and consider if you may have gifts that might support the faith journeys being undertaken by everyone involved!
Vacation Bible School --
A success!
Thanks to Many!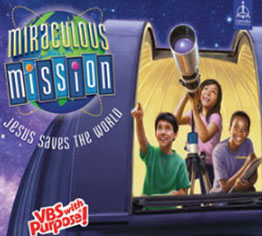 All those involved as students and staff consider this year's MIRACULOUS MISSION program an absolute success. We want to thank the host of volunteers who made this possible.
Our volunteers included: Linda Grohn, Maureen Tiedemann, Martha Feculak, Tina Keeble, Lynn Giese, Tabitha Biel, Damarius Holczer, Shelley Walker, Arianna McCormick, Gertie Love, Doreen Christensen, Sharon Kluthe, Debbie Goertzen, Sam Goertzen and Arnold Grohn.
Both breakfast and lunch were prepared for all the staff and children this year. All the food was donated! Thanks to: Gerry and Kathy Saunderson, Jennifer Tasse, Grace Giese, Doreen Connell, Faye Fielhaber, Karen Krysa, Doreen Christensen, Sharon Kluthe, Lynn Giese, Maureen Tiedemann, Martha Feculak, Linda Brownlee, and Verna Acton. We also used leftover items from the congregational barbeque: pickles, condiments, cheese, etc. Lunch was very much appreciated, especially by those families who live out of town and had a long drive home. Special treats were also brought over by Grace Lam and her husband from All Saints who wanted to see how our VBS compared to theirs. Grace prepared fried rice with Chinese sausage and seaweed topping; dumplings; and Chinese noodles. Tummies were filled before everyone travelled home.
We were able to pick up wonderful decor items from All Saints Lutheran Church who ran the same VBS the previous week. Maureen and Shelley picked up a full car load and led the decorating session with Arianna McCormick and other helpers for 4 hours on Sunday morning. Please take a look at the photos taken by Debbie Goertzen on our display table this morning. You can see how much fun we had sharing the message of our Lord's promises being fulfilled.
An offering was collected for "Gospel Outreach", an organization that sends Bibles and story books to countries where children don't have access to any Scripture stories. Our goal is to reach $300.
"For God so loved the world that He gave His only Son , that whosoever believes in Him should not perish, but have eternal life." John 3:16
We learned that God made me. God keeps His Word. Jesus came for me. Jesus saves me. Jesus is coming for me. This is all true! This is all God!