Our Church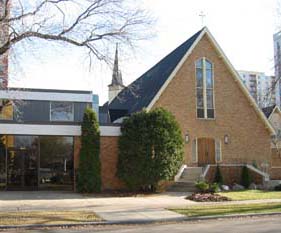 9907 114 St Edmonton, AB
T5K 1P7
Parking is available at Connelly-McKinley Funeral Home on Sunday mornings. Please park on the south end of the large east parking lot unless otherwise posted. Our thanks to Connelly McKinley for the privilege of using their parking lot.

In faithfulness to God's word (Acts 1:8), the mission of Grace Lutheran Church is "To proclaim in a warm caring atmosphere the good news of God's love and forgiveness in Christ to the people of our congregation, our community and the world."


Our Faith
We believe that there is only one true God, Who exists in three persons: Father, Son, and Holy Spirit. God the Father is the creator of everything that exists. The Son is Jesus the Savior. The Holy Spirit inspired the entire Bible. It is the errorless Word of God that brings God's message of love and hope for all people. We accept that Scripture is accurately and faithfully interpreted in the documents contained in the Book of Concord.
Read More of "Our Faith"
Coronavirus Response
(Posted 2020-03-15)
Our pastors and church council continue to refine our response to the spread of COVID-19. Because people can start infecting others three days before they themselves start seeing symptoms, we want to do everything possible to keep our contacts with each other here at Grace as safe as possible.
In no way does this threaten or undermine our trust in God. We rely now, as much as we ever have, on His grace and mercy to keep us safe and guard us from all harm, both physically and spiritually. But as we heard in the Gospel two weeks ago, it is not right for us to "put the Lord to the test." (Matt 4:7) Faith in God's care does not exempt us from the recommendations of health-care practitioners. In fact, in our Lutheran Christian way of looking at such things, both doctors and public-health professionals are agents of God's own ongoing care for the world, doing His work - not just their own. Therefore, taking their directives seriously is one of the ways that we express and exercise our faith, as well as good citizenship.
For these reasons, then, our pastors and church leaders are taking the following steps.
1. If you become sick with the symptoms of a cold or flu, please stay home until you are feeling completely better. The coronavirus can be spread for as many as 12 days after a person recovers.
2. Cover your mouth with your sleeve, not your hand, if you need to cough or sneeze.
3. Wash your hands often, using soap and water for at least 20 seconds.
4. Leave a little more space around yourself than usual, both in the pew and at the communion rail. A buffer of one meter is considered good.
5. Instead of sharing the peace with a handshake, let's use only our words.
6. Consider using an individual glass, not the common cup, during Holy Communion.
Thank you for your understanding and cooperation. Please keep this whole situation in your prayers.
Pastor's Page


(By Pastor Curtis)
John Donne "No Man Is An Island"
In the winter of 1623, the English poet John Donne wrote these lines in his "Meditation 17:
No man is an island,
entire of itself;
every man is a piece of the continent,
a part of the main.
Donne's words address social isolationism and express our human need for community. And they ring especially true during this recent time of social and physical distancing during the COVID-19 pandemic. During the past three months, we have taken some extreme measures to preserve the physical health of as many people as possible in our society. We are also learning again what John Donne knew in 1623, that physical health is only part of our well being, not its entirety. At some point, we will remember that we need each other, emotionally, socially, spiritually. And despite the risk to our physical health (which we will try to minimize) we will meet together again.