Our Church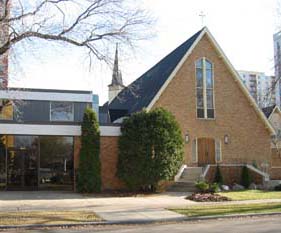 9907 114 St Edmonton, AB
T5K 1P7
Parking is available at Connelly-McKinley Funeral Home on Sunday mornings. Please park on the south end of the large east parking lot unless otherwise posted. Our thanks to Connelly McKinley for the privilege of using their parking lot.

In faithfulness to God's word (Acts 1:8), the mission of Grace Lutheran Church is "To proclaim in a warm caring atmosphere the good news of God's love and forgiveness in Christ to the people of our congregation, our community and the world."


Our Faith
We believe that there is only one true God, Who exists in three persons: Father, Son, and Holy Spirit. God the Father is the creator of everything that exists. The Son is Jesus the Savior. The Holy Spirit inspired the entire Bible. It is the errorless Word of God that brings God's message of love and hope for all people. We accept that Scripture is accurately and faithfully interpreted in the documents contained in the Book of Concord.
Read More
Pastor's Page
Teamwork
Do we really believe in teamwork?
Most people know at least a few catchy slogans about teamwork. There's the acronym: "Together Everyone Achieves More." There's the pun: "There's no "I in Team." And there is the wisdom gained through experience: "A team is more than the sum of its parts."
But let me just play the devil's advocate here for a second. If you want quick results, don't work as a team. Work independently, spend your own money, and don't tell anyone what you're up to. That's the fastest way to get results.
So why do we talk about teamwork? If it isn't the fastest way of getting results, then why bother?
Read More
Trevor's Christmas Update:
December 2019
Dear friends,
Merry Christmas! Sorry that there are no pictures in this update. The internet for my entire city is barely functioning this week but I wanted to send this update on time anyways.
It's now the end of the first semester! Last week we finished up semester exams and a few students graduated (Korean students often graduate early because Korean universities start during our second semester). It's always bitter-sweet.
Too be honest, I never felt I connected well with this grade 12 class. So I was surprised when one of the early graduates gave me a letter that said my classes had led him back to Christ after he had stopped believing or attending church. Praise God! I know that this was not my doing but his.