Our Church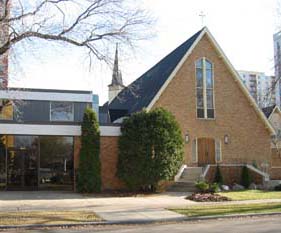 9907 114 St Edmonton, AB
T5K 1P7
Parking is available at Connelly-McKinley Funeral Home on Sunday mornings. Please park on the south end of the large east parking lot unless otherwise posted. Our thanks to Connelly McKinley for the privilege of using their parking lot.

In faithfulness to God's word (Acts 1:8), the mission of Grace Lutheran Church is "To proclaim in a warm caring atmosphere the good news of God's love and forgiveness in Christ to the people of our congregation, our community and the world."


Our Faith
We believe that there is only one true God, Who exists in three persons: Father, Son, and Holy Spirit. God the Father is the creator of everything that exists. The Son is Jesus the Savior. The Holy Spirit inspired the entire Bible. It is the errorless Word of God that brings God's message of love and hope for all people. We accept that Scripture is accurately and faithfully interpreted in the documents contained in the Book of Concord.
Read More
Pastor's Pages
"Stewards of the Mysteries" (Pastor Curtis)
"This is how one should regard us, as servants of Christ and stewards of the mysteries of God. Moreover, it is required of stewards that they be found faithful." 1 Corinthians 4:1-2
Whenever I drive to the north side of Edmonton, I like to observe the construction of Edmonton's youngest neighbourhood. Blatchford will be built on what was once the city center airport, and the City of Edmonton is going to great lengths to plan a community that will be exemplary and admirable. For example, a friend of mine has had a part in building the first geothermal "Energy Center" in Blatchford, which will distribute heat from the earth to hundreds of homes. I find this fascinating.
I wonder whether there will be any churches in Blatchford. Does an exemplary and admirable community need churches? I believe it does. Maybe we should plant a church in Blatchford!
Read More


"Being Scent-sible" (Pastor Steve)
St. Paul uses a fascinating image in one of his letters to describe the effect that we as Christians have on the people around us. "We are a sweet aroma of Christ," he says. "To those who are perishing it is an odour from death to death, but to those who are being saved, a fragrance from life to life." (2 Cor 2:15-16) On the spiritual level, Paul's point is that the Gospel of Christ is both a pleasing aroma that brings and celebrates life—and, at the same time, an unpleasant stench that creates offense and disturbance. It's the same Gospel in both cases! The difference is who is perceiving it. People the Holy Spirit has brought to faith perceive the Gospel as the best good news ever, while those who are still captive to sin consider it to be silliness at best, if not deeply offensive.
The same stark division exists on the more basic physical level too. Scents that some people consider to be pleasant and cheery can be deeply distressing to others. And because aromas freely circulate and spread in public, it's important for each of us to consider the impact that our decisions about scents will have on others.
Read More